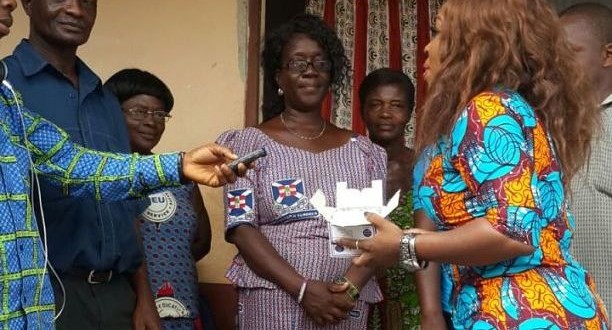 Afia Schwarzenegger donating boxes of chalk to
the Kukurantumi Presby Schoo
The Ghana Education Service (GES) is to investigate the headmistress of the Kukurantumi Presby School for requesting for boxes of chalk from the wife of the Vice President, Mrs. Matilda Amissah-Arthur. According to the GES, available documents show that the school had recently been provided with 42 packs of chalk. This, they said has necessitated the need for an investigation.
The Acting Public Relations Officer of the GES, Rev Jonathan Bettey in an interview with Citi News revealed that the District Director of Education of Kukurantumi confirmed to him on Monday that 42 packets of chalk had gone to the school.
"The Public Relations Officer went there for an investigation and documents prove that they took the delivery of 42 packs in that school before the statement was made by the woman [headmistress]," he explained. The headmistress of the Kukurantumi Presby School has been in the news lately after an audio recording of the Second Lady rebuking her for requesting for chalk went viral on social media. In the recording, Mrs Amissah-Arthur was heard saying, "I will not give you chalk today, neither will I give you chalk tomorrow. You have teachers; you have the PTA, go and buy chalk for the school."
When Citi News visited the school, the pupils pleaded with government to provide them with chalk because they are often sent by their teachers to buy chalk worth 50peasewas. Many, who were outraged by the news trooped to the school to donate boxes of chalk.
Mrs. Amissah-Arthur subsequently apologized for her outburst with the explanation that her comments were aimed at encouraging community participation.
Nonetheless, the GES is bent on investigating the headmistress because of the conflicting reports. Rev. Bettey argued that "we need to investigate and make a verification of the facts of what is going on." "Authorities will not sit down to hear this story from Kukuratumi, sit down and say that it should die just like that so we need to do a follow up," he explained.
According to him, even if the 42 boxes of chalk which were delivered to the school had been used up, she should have made another request rather than asking the Second Lady who was there to donate about 500 books and five computers. "Even if they took delivery of it and it was finished, it is her duty to go to the appropriate quarters and make a request. It is not only chalk; any provision, any logistics that a school needs, we have sent them to the school," he added.