After a sharply dressed Saudi man mocked a young migrant picking through rubbish, others rushed to try to find the girl and give her money.
The young man stopped to take a selfie in front of an African migrant picking through rubbish in Jeddah. He spotted that the young girl, maybe about 10 years old, was wearing a shirt displaying the logo of the al-Ittihad football team, and saw the opportunity for a quick joke.
"Look at where al-Ittihad is, in the bin," the man wrote underneath the photo on the image-sharing app Snapchat.
The image was then taken off Snapchat and widely shared on other social networks, as well as reported in the media. Not many people found it funny. The overwhelming sentiment online was outrage and anger: people who saw the picture thought it was in poor taste, even racist, and that the man was using a poor child as a prop.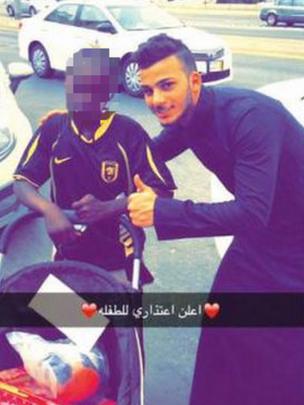 "Saudi society is a very generous society ... but let's see if they follow up on what they say," says Forgan al-Madhi, a Saudi social media commentator who lives in London. "A more important issue would be to question what we're doing about illegal migrants than dealing with one little girl," he says.
The girl hasn't yet been found, and so it's not clear whether she will ever receive the large sums pledged for her.